PATIENT SATISFACTION SURVEYS GIVE OUR THERAPY DEPARTMENT A 5 OUT OF 5 RATING RESULTING IN 100% SATISFACTION!!!
Our rehabilitation department is staffed by experienced, licensed therapists who work closely with our doctors and management team. We provide the most progressive individualized physical, occupational and speech therapy. Our newly renovated therapy room has been expanded to three times its former size and we added Jackson County's ONLY in-house aquatic therapy pool. The combined effects of waters properties makes it a very useful tool for individuals who may have difficulties due to pain, decreased bone density, weakness, loss of balance or disability.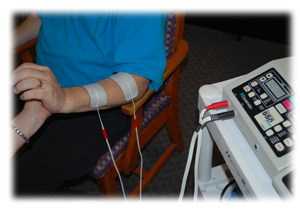 We also offer three specialized modalities: electrical stimulation, ultrasound and VitalStim. These treatments are of the more common modalities used in the rehabilitation arena. They have proven to be beneficial for a variety of diagnosis. Used in combination with a general rehabilitation program they can increase a patient's progress and decrease the time spent in recovery.
Physical, Occupational and Speech Therapy Services
Training with adaptive devices which assist in activities of daily living

Therapeutic exercises to improve:

Range of motion

Strength

Balance and coordination

Pain control/relief utilizing state-of-the-art equipment

Evaluations and exercises to improve swallowing and communicating

Reorientation back to community living

Gait Training
Patient Conditions Requiring Rehabilitation
Joint Replacement

Stroke

Osteoarthritis

Parkinson's Disease

Rheumatoid arthritis

Problems and symptoms related to cardiovascular or neurological disorder
Skilled Nursing
Wound Care/Skin program (wound vacs)

Stroke Recovery program

IV therapy

Pain Management

Fall Prevention

Infection Control

Behavior Management program

Tube feedings/Registered Dietician on staff

Bladder training programs

Certified Nursing Assistance (CNA)

Diabetic Management

Palliative Care
As well as, many more services and programs.
We are proud to be a teaching site for the Jackson College Nursing Program and new clinical site partner with Jackson Area Career Center's Certified Nursing Assistance Program (CNA).