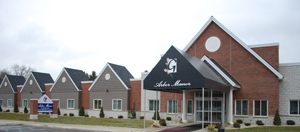 As you walk into our Center, you are greeted by friendly, caring staff surrounded by our comfortable and elegantly decorated lobby. Our dedicated professional staff seeks to optimize your quality of life. We sincerely care about our guests and their families. You'll find our guest rooms and services come with all the comforts and amenities of a "home away from home".

Beautifully decorated with spacious private and semi-private rooms.

Numerous recreational activities specific to each level of care, including pet therapy.

Delicious meals and alternate menus planned to meet individual preferences and dietary restrictions.

Pleasantly landscaped with an enclosed courtyard garden.

Ample parking and easy access to major highways (M-60 & I-94).

Excellent staff to resident ratio providing the highest quality of care.

Air-conditioned comfort.

Rehabilitation services including physical, speech and occupational therapies.

Cheerful and roomy, newly renovated Therapy Room.

Newly furnished Therapy Guest Lounge and spacious private rehabilitation suites.

Therapeutic recreation, activities and outings.

Beauty/barber shop services.

Personal in-house laundry services.

Chaplain on staff with in-house services.

Holiday celebrations featuring entertainment and delicious food!

Beautiful, safe and secure campus setting in a multi-generational atmosphere.